The Day Center Program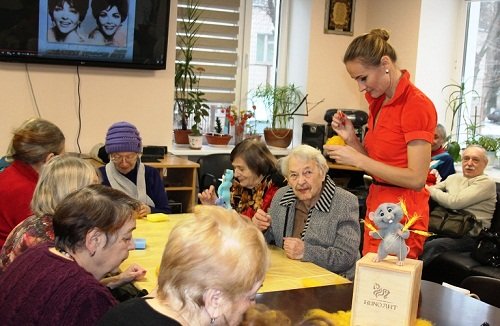 With age, not only the illnesses and financial problems come, but also reduce the physical ability to lead an active social life. And there are left less friends and acquaintances, which can come to visit you. Then an elderly person feels himself abandoned and deeply unhappy, experiencing great stress from social isolation. To resolve the problem of loneliness and stimulate social activity of our wards was created a special program " Day Centre". Six days in a week, our morning begins with the arrival of the Fund's vehicles that are bringing the wards with limited mobility.
In the Day Centre they are offered a range of varied activities such as art therapy and visits to hot and happening art exhibitions, master classes of leading Ukrainian craftsmen of Hand Made, guided tours and visits to the Kiev theatres, learning the basics of a healthy lifestyle and virtual traveler's club, performances, Sabbaths, and many, many more. Wards of the Day Centre can do morning exercises together with the doctor-rehabilitologist and get his advice, go to rehab facilities and use modern equipment. One of the bright examples of Day Centre work is the project "Morning Coffee", in which wards are visiting the metropolitan cafes. Savoring a delicious coffee or fragrant tea with delicious desserts, they can enjoy excellent service, a cozy interior and outstanding performances from the specially invited artists. But most importantly – to communicate with each other, supporting and expanding their circle of communication.
And for those wards who like to go out for a meeting nearby their house and develop relationships with friends at home environment, we have another project "Warm house". Hospitable hostesses gladly open the doors of their apartments to other wards. Guests socialize not only among themselves but also with musicians, doctors, lawyers, scientists who are happy to share their knowledge and creative achievements with the clients of Fund.
"I am so much excited with work of the Day Centre! I am looking forward to every trip!", describes her feelings happily Myla S. "I Have friends in the Day centre...they love me here... what else is needed for a new burst of energy?", - says Gregory K., who is a client of this program. There are always many of those who want to spend their day in a Day Center. And we are happy to see their smiles and happy faces.
For more information about this unique program, contact our duty supervisors by the phone: + 38 (044) 241-03-02
Program Manager – Rayisa Gerbeeva